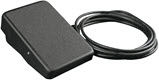 Receive a $200 Rebate, a FREE TIG Foot Pedal, AND a FREE Savage A40 Welding Helmet from ESAB when you purchase this machine. Click Here for more information!

ESAB Rogue ET 200iP PRO TIG Welder 0700500073
The ESAB Rogue ET 200iP PRO is a 200 amp portable DC TIG/Stick welding package that features pulsed TIG welding. Weighing just over 21 lbs., the ET 200iP PRO packs a ton of power and features into a small frame. Advanced TIG welding controls include built-in pulsed TIG with frequency control that is adjustable up to 500 Hz. Standard pre-flow, post-flow, start current, finish current, ramp up and crater out settings combine to provide a highly customizable, incredibly stable arc. Adjustable Arc Force and Hot Start controls allow you to customize your stick electrode arc while in stick welding mode. Dual voltage technology allows the ET 200iP to operate on single-phase 120 volt or 230 volt input power using included adapter plug.
The Rogue ET 200iP PRO is comes complete with digital meter, ten foot input power cable with plugs, 150 amp TIG torch with flex head, remote amperage control and 13 ft. leads, inert gas flow regulator with hose, ten foot lead cable with electrode holder, ten foot ground cable with clamp and ESAB's 3-year warranty. The Rogue is IP23S designed to be used with confidence indoors or outdoors.
Process
DC TIG (GTAW)

Pulsed DC TIG (GTAW-P)

Stick (SMAW)

Applications


Farm Equipment




Civil Construction




Food and Beverage




Industrial and General Fabrication




Repair and Maintenance

Features

ECO Power – Next-level energy savings and power efficiency ensures lower power consumption, lower energy bills and lower overall operation costs.

Dual voltage input supply – flexibility to use anywhere on single phase 115V/230V input power

Excellent high frequency TIG start ensures no failures on ignition with superior arc characteristics for smooth and stable performance

Advanced TIG parameter control to match every application and pulse feature up to 500 Hz for for better heat input control

Easy to Use –set the welding current and weld with excellent results




Practical Design –makes the power source easy to carry which enables use at almost any work site

Robust Design – IP23S designed for fabrication shop or site application

PFC (Power Factor Correction) ensures a stable arc, resistant to power fluctuations even while working on long extension cables up to 300 feet (12 AWG size)


PLEASE NOTE: This is a DC TIG welder ONLY. It CANNOT TIG weld aluminum.

ESAB's industry-leading service and support means that if you do need help with your welder, you will be protected. 100% SATISFACTION GUARANTEE means that if there's anything you're not completely satisfied with in your first 100 days with your new Rogue, ESAB will make it right, even if it means giving you your money back. It's all part of ESAB's Iron Clad Pledge to its customers.

Comes Complete With:

Rogue ET 200iP PRO DC TIG/Stick welder

13 ft., 150 amp TIG torch with flex head, remote amperage control and extra consumables

Inert gas flow regulator with hose

10 ft. power cable with NEMA 6-50P 230 volt plug and 115 volt adapter

10 ft. lead cable with electrode holder and male dinse connector

10 ft. work cable with clamp and male dinse connector

Digital meter

Shoulder strap
Agricultural Equipment
Civil Construction
Food and Beverage
Industrial and General Fabrication
Repair and Maintenance
Specifications
Voltage
115/230 ± 15% VAC 1, 50/60 Hz
Max Output
200 A
MMA Welding Output
200 A / 28.0 V @ 25 % Duty Cycle
129 A / 25.2 V @ 60 % Duty Cycle
100 A / 24.0 V @ 100 % Duty Cycle
TIG Welding Output
200 A / 18.0 V @ 25 % Duty Cycle
129 A / 15.2 V @ 60 % Duty Cycle
100 A / 14.0 V @ 100 % Duty Cycle
Current Range
10-200 A
Open Circuit Voltage
78 V
Standards
CSA
Protection Class
IP23S
Energy Save Mode
50 W
Operating Temp
-10 – +40 °C ( +14 to +104 °F )
Dimensions, L x W x H